The Acting Executive Chairman, Kogi State Internal Revenue Service (KGIRS), Alhaji Salihu Sule Enehe, has felicitated with His Royal Highness, the Maigairi of Lokoja, and the Chairman, Lokoja Traditional Council, Alhaji (Dr.) Muhammadu Kabir Maikarfi III, OON, on the 30th anniversary of his ascension to the throne.
In a goodwill message issued today in Lokoja, by the Head of Corporate Communications Unit of KGIRS, Alhaji Muhammad Mukhtar Idris, the Kogi State revenue boss said that the monarch is a pillar of tax ambassadorship in the state, describing him as an epitome of wisdom, sincerity and uprightness.
Salihu Enehe further commended Alhaji Muhammadu Maikarfi for all inclusiveness in the Lokoja Traditional Council which has translated into greater development in the Lokoja Emirate Council.
Enehe explained that, "The great support of the royal father for taxation in the Lokoja Traditional Council has given KGIRS the strength and inspiration for its seamless operations in the confluence city. His Royal Highness remains an invaluable proponent of taxation in the Lokoja polity, given his total commitment, support and his fatherly roles which always interface between taxpayers and the state revenue agency. Several meetings have been held in his palace to chart a way forward for the seamlessness of tax operations in his domain."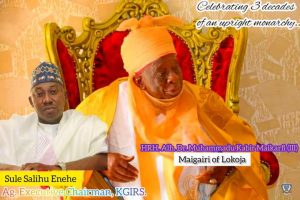 Salihu Enehe congratulated the monarch and the entire emirate cabinet members on this historic day of his 30th year anniversary as the Maigairi of Lokoja, praying that Allah continues to make his days long on the throne, and may his reign continue to bring sustainable peace, and more development to the emirate council, and to the state in general.
With N17.36 billion in internally generated revenue (IGR) in 2020, Kogi State ranked fourth among the seven subnationals of the North Central Zone, coming behind FCT, Kwara and Plateau. Its IGR in the four years prior to 2020 was: N9.57 billion in 2016, N11.24 billion in 2017, N11.33 billion in 2018, and N16.39 billion in 2019.
Mr. Frederick Apeji
Abuja, FCT